24 December 2021
When Melanie Field was placed on the heart transplant waiting list in 2018, she always knew the odds of finding a suitable donor were against her.
The mum-of-two from Benfleet in Essex was extremely sensitised, which means she had very high antibody levels to potential donors and therefore had less than a one in 20 chance of a donor heart being a suitable match.
But, thanks to the gift of life of organ donation and a pioneering type of transplant, the 47-year-old is facing a very different future this festive period after receiving a DCD (donation after circulatory death) heart earlier this year.
"I cannot thank my donor enough for what they have done. I was running out of time but because they made the decision to be a donor and shared that wish with their family, I'm still here today," Melanie said.
"They have not just given me my life back, they have given my husband his wife back, my daughters their mother back. They have given our whole family a second chance at life."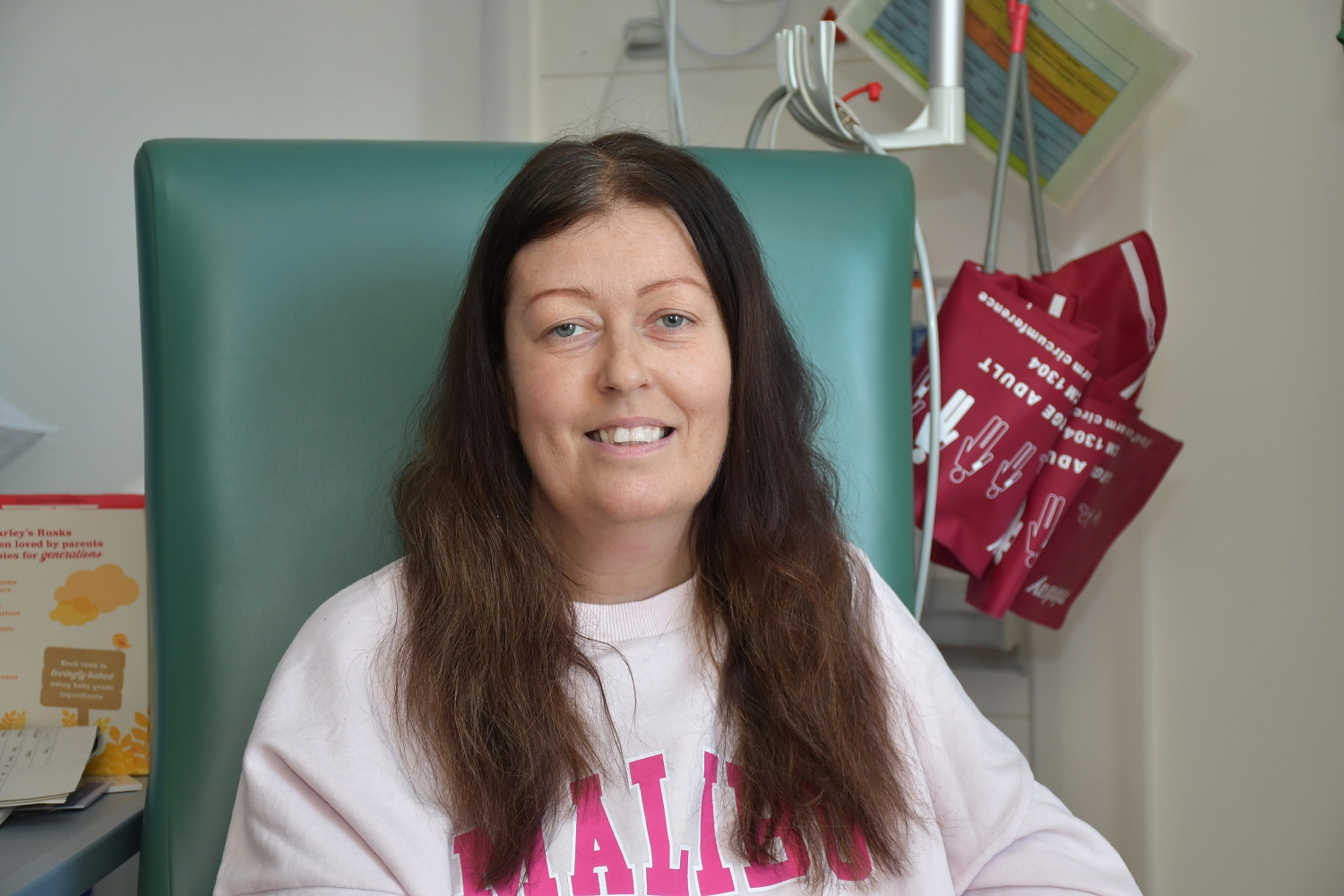 Melanie had a less than 1-in-20 chance of being matched with a suitable donor heart.

Melanie's heart problems began 20 years ago when she was pregnant with her second daughter.
Initially it was thought she had peripartum cardiomyopathy, a condition where the heart becomes enlarged and weakened in late pregnancy or following childbirth, but she was ultimately diagnosed with dilated cardiomyopathy, a disease of the heart muscle.
"I was aware that my mum had a heart condition and we had family members who had died because of heart problems too, including my sister, but I never knew I had something wrong with my heart until this point. I was 28.
"Thankfully my second daughter arrived safely and for the next eight years I lived with heart failure drugs, until my condition started to further decline.
"I was then fitted with an implantable cardioverter defibrillator (ICD), which sat under my skin near my heart and kept track of my heart rate, shocking my heart whenever it went into an irregular rhythm.
"But then things got even worse in 2018 and I went into advanced heart failure."
I had to be plugged into mains power at night
For Melanie, this meant being put on the urgent waiting list for a heart transplant, but after two weeks she was told she was at high risk of dying before a suitable donor heart could be found, and needed to be fitted with a new device, called an LVAD (left ventricular assist device).
A LVAD is a mechanical pump that takes over the job normally carried out by the bottom chamber of the heart (left ventricle) by pumping blood into the aorta and around the body. It is a 'bridge' to transplant, allowing people like Melanie more time to find a suitable donor.
But because of previous pregnancies and treatment for other health conditions, her antibody levels were high and the chance of finding a heart which would not be rejected by her body was low.
"While the LVAD keeps you alive and buys you time, it is physically and emotionally tough," Melanie reflected. "It is stitched into your heart and then you wear an external battery pack on your back. It's about three kilograms so it's not comfy or light, but I tried to continue to be active.
"There is a lot of medication you need to take and you have a higher risk of infection, plus you need to always make sure you have it charging or have batteries. This is the device that was keeping me alive, so I would have to be plugged into the mains power at night!"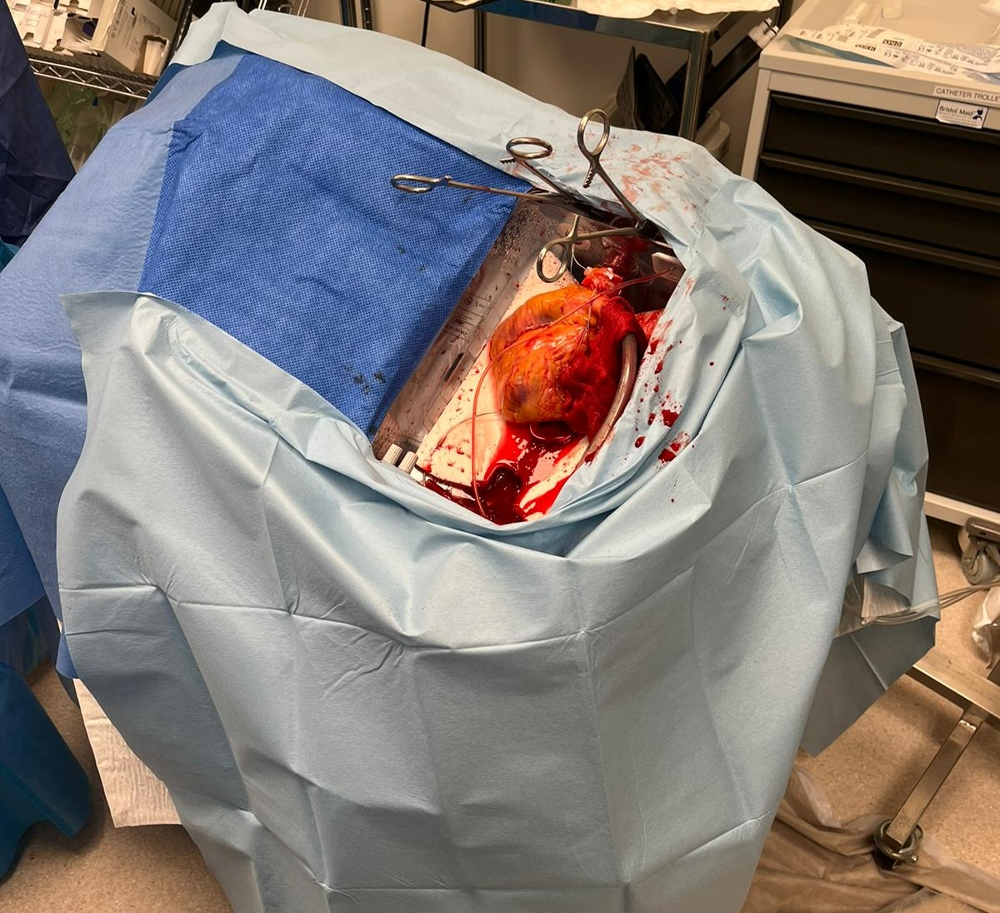 A DCD heart, also called non-beating, is 'reanimated' an Organ Care System machine.

While supported by the LVAD, Melanie had two false alarms; she was called in for a transplant but ultimately the operation didn't go ahead because the donor heart was not suitable.
However, just when she thought she was running out of time on the LVAD as it reached the end of its life, it was third time lucky for Melanie.
"Waiting for that call to say there is a potential donor makes you so anxious. There was a stage when I got lots of cold calls and I kept running around thinking it was the transplant team at Royal Papworth.
"It was about 9pm when the transplant co-ordinator called this third time and I tried to stay calm because of the two unsuccessful attempts before, but my husband ran upstairs to tell my daughters and began wildly packing my bags.
"I did believe it was going to happen this time, though. For some reason, I just knew. I came in, everything kept progressing well, I was taken down to theatre and then my next memory is waking up in critical care after my transplant."
The team did an incredible job
"Melanie's transplant was additionally complex because of her previous surgery to fit her LVAD," explained Richard Quigley, Lead Nurse for Transplant at Royal Papworth Hospital.
"The team did an incredible job and Melanie is now under our continuing post-transplant care, which has excellent, world-leading outcomes."
Melanie's transplant, called a DCD heart transplant, is a technique developed by research at Royal Papworth Hospital over many years.
The transplant team at Royal Papworth performed the first DCD heart transplant in Europe in 2015 and has now carried out nearly 100 of these operations making it a world-leading programme.
It has expanded the number of heart transplants performed in that time by nearly 50%, to help address the shortage of donor organs and allow people like Melanie a second chance at life that they might otherwise never have got.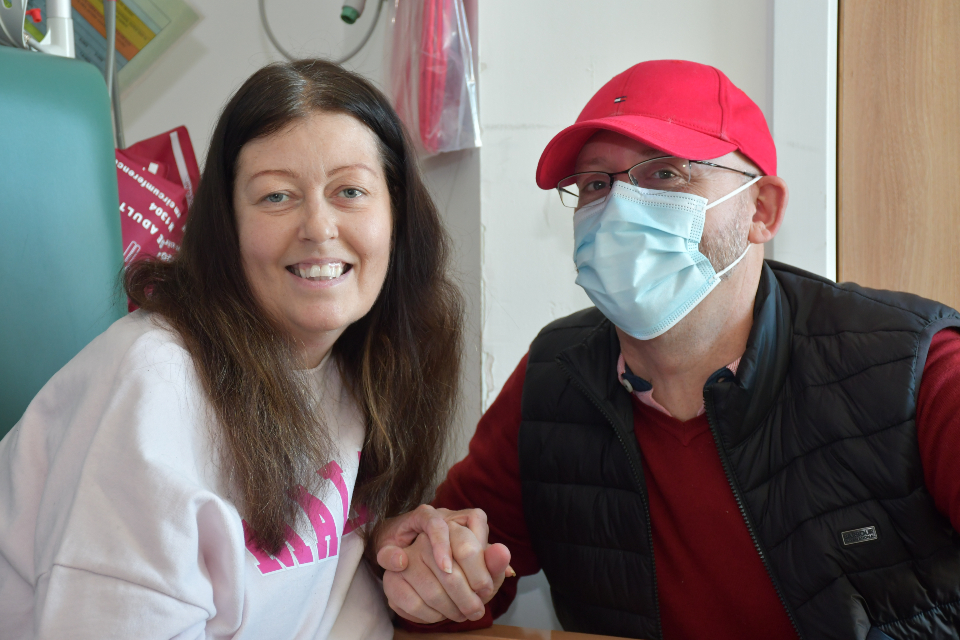 Melanie's husband, Paul, visiting her in hospital after her transplant.
"When you have an LVAD you don't have a heartbeat, so after three years when I woke up I actually thought I was at a party and my heartbeat was the vibration of the music. The beating inside my chest was so powerful.
"It was an incredible feeling. Instantly I felt so protective of this gift and just remember being so grateful and thankful to my donor."
Dr Stephen Pettit, Clinical Lead for Transplantation at Royal Papworth Hospital, praised 'the whole multidisciplinary team' for looking after Melanie throughout her journey: "It is great news that Melanie and her family can enjoy Christmas with her new, donor heart.
"I would also encourage families to talk about the difficult subject of organ donation over the festive period. We can only do what we do because of the generosity of organ donors and their loved ones."
A new law, called Max and Keira's Law, came into force in England in May 2020 with the aim of improving organ donation consent rates by changing from an opt-in to an opt-out scheme.
However, families will still always be consulted if organ donation is a possibility, so if you want to be an organ donor after you die, it's really important that you talk to your loved ones and make sure they understand and support your organ donation decision.
You can also register your decision on the NHS Organ Donor Register.


Melanie describes the moment she first felt her new, donor heart beating.