20 May 2022

Andrew Hoppington, a retired catering supplier from Freethorpe, Norfolk, has seen 'incredible' results after taking part in a heart surgery study at Royal Papworth Hospital NHS Foundation Trust.
He is now helping to raise awareness of the benefits of taking part in research as part of the National Institute for Health and Care Research's (NIHR) 'TrialBlazers' campaign to mark International Clinical Trials Day 2022 (Friday 20 May).
Andrew, 60, began to feel unwell while building his house in 2020, and noticed that he was becoming less and less able to lift heavy objects and move around. After seeking medical help, Andrew was told that one of his heart valves was 88% blocked and that he needed a double bypass.
As part of his treatment, Andrew was invited to take part in the NOTACS (Nasal Oxygen Therapy After Cardiac Surgery) trial which is funded by the NIHR and led by Royal Papworth Hospital's Clinical Trials Unit.
The study aims to assess the effectiveness of high-flow nasal therapy (HFNT), which supplies oxygen through nasal tubes worn by post-cardiac surgery patients. HFNT is considered more comfortable and less costly than traditional oxygen masks.
Having considered the information supplied by the NOTACS team, Andrew did not hesitate to participate in the trial. He said: "If I could just give a little something back to the medical professionals who work so hard to take care of us, I'm more than happy to do it."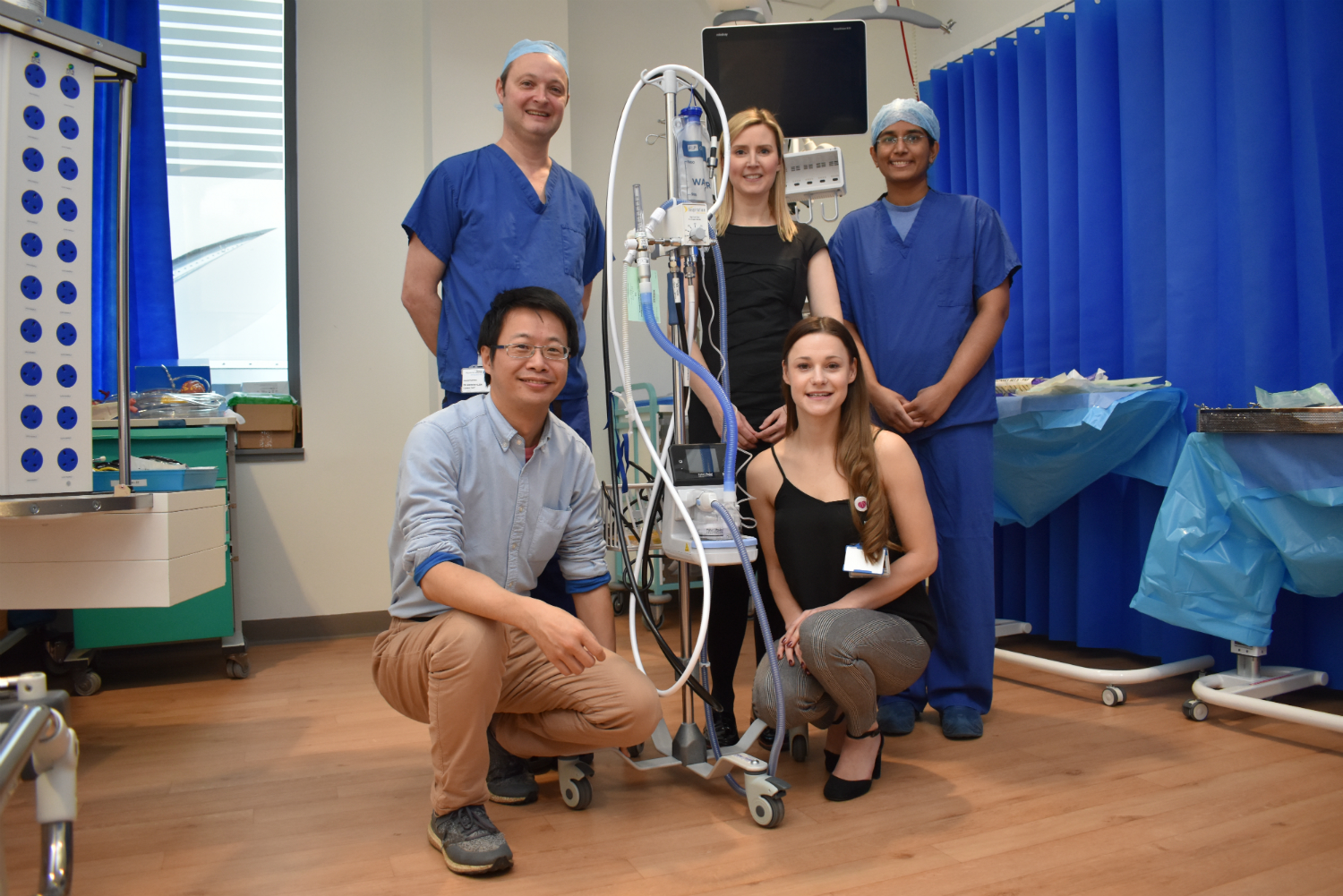 The NOTACS trial team at Royal Papworth Hospital

After cardiac surgery, Andrew had two nasal pipes fitted to control the HFNT which helps his breathing. He was amazed by their effectiveness.
"They cleared my nasal passages so quickly, and the HFNT meant I didn't have to suffer from claustrophobia with the traditional oxygen mask. I felt great."
Andrew's life has been transformed since taking part in the study and he has been able to do the things he used to enjoy again, including cycling and five-a-side football. This has resulted in him losing 12kg and his blood pressure becoming "the lowest it's ever been."
His wife is also pleased with another surprise outcome – "since the day I came out of the hospital I have stopped snoring!"
Andrew's experience has been overwhelmingly positive, and he would recommend others take part in research if they can.
"I have nothing but praise for the study. I'd do it again if I had to – but hopefully I won't need to. I cannot believe how well I've felt, even from the first day that I left the hospital, and I would encourage anyone if they can to be part of research."
Andrew is encouraging others to get involved as part of the NIHR's TrialBlazer campaign, which celebrates the thousands of people who take part in and support research all over the UK.
You can watch Andrew's video on Twitter and find out more about the NIHR's TrialBlazer campaign.
The NIHR is the nation's largest funder of health and care research. In the East of England region alone, more than 88,800 people took part in more than 800 studies on the NIHR research portfolio over 2021/22.
Professor Andrew Klein, Consultant Cardiothoracic Anaesthetist at Royal Papworth Hospital who leads the NOTACS team, thanked Andrew and others who take part in research, saying:
"Research can't take place without patients - and we are very grateful to Andrew and all the other patients who take part in this and other studies. Research takes patient time and effort - filling in questionnaires and answering questions. Andrew has helped us refine the questions we ask to make them easier to understand and he will be helping us throughout the trial for which we are very grateful.
"Once the study is complete, we aim to get information about the main study findings out to patients and the public as soon as we can, and we will be asking Andrew and other patients who took part in the trial to help us."
To find out more about the NOTACS trial please contact the research team by emailing Melissa Duckworth and/or Melissa Earwaker.
If you would like to help researchers by participating in a clinical study, find out more on the NIHR website.